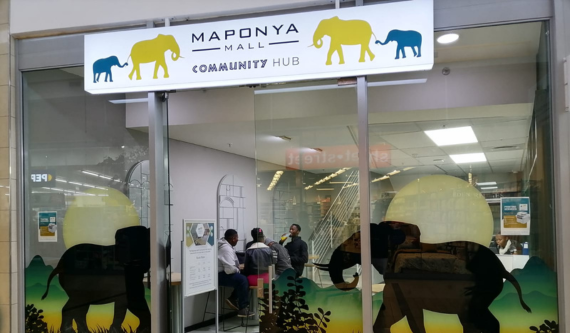 ---
THE MAPONYA MALL COMMUNITY HUB
BE PART OF OUR COMMUNITY'S FUTURE
We're calling on you to join the Maponya Hub movement where we have opened our new state-of-the-art facility to assist all youth, NPOs, and SMMEs in the new year!
---
Are you an SMME? Do you have an NPO?
We have continued opportunities for everyone in Soweto! Job seekers, business dreamers, and community members are welcome to sign up NOW for more information. Dare to dream big and take the first step into your future with The Maponya Mall Community Hub!
Maponya Mall in collaboration with Afrika Tikkun brings you a collaborative, safe, and inclusive learning environment providing you with the skills to become employable, start up or grow your small business or create and cultivate within the non-profit sector through our development programmes and workshops.
We care for our community and will be providing courses to assist in the development and upliftment of our youth, aspiring entrepreneurs, and local non-profits!
The Maponya Mall Community Hub aims to play a crucial role in supporting small and medium-sized enterprises (SMEs) as well as NPOs by offering valuable assistance and creating a positive impact on their growth and sustainability.
We have many exciting initiatives coming up – make sure to sign up for your program of choice to be on our list of learners and potential partners for upcoming projects at Maponya Mall.
By alleviating the financial burden of learning by providing free workshops, courses and networking programmes, The Maponya Mall Community Hub is here to help our community focus on core activities, innovate, and seize new opportunities.
By offering resources and expertise that they may not always be available, we're here to help with mentoring programs, business training, and workshops that equip entrepreneurs with essential skills and knowledge. This guidance helps refine strategies, enhance management capabilities, and improve overall performance. We're here to also facilitate networking opportunities, connecting our SMMEs and NPOs with potential partners, investors, or clients, which can significantly boost their visibility and growth potential.
We're here to engage in advocacy and policy initiatives that benefit our community and promote a level playing field, allowing members of the community to thrive and contribute to the local economy while strengthening your foundations, expanding your reach and positively contributing toward society in Soweto. By fostering economic growth, we're empowering our people.
---
SMMEs
Are you a budding new business owner or have big dreams to begin your own company? You can find the tools to network, source funding and obtain mentorship in taking your small business to the next level. The Maponya Hub will host workshops to provide you with assistance, skills and community to support your mission and make your business goals a reality.
---
NPOs
Are you an existing NPO looking to partner to our community and collaborate with other non-profits? Want to know how to start your very own NPO and make a real difference in your community, then join the movement today!