Back 2 School at Maponya Mall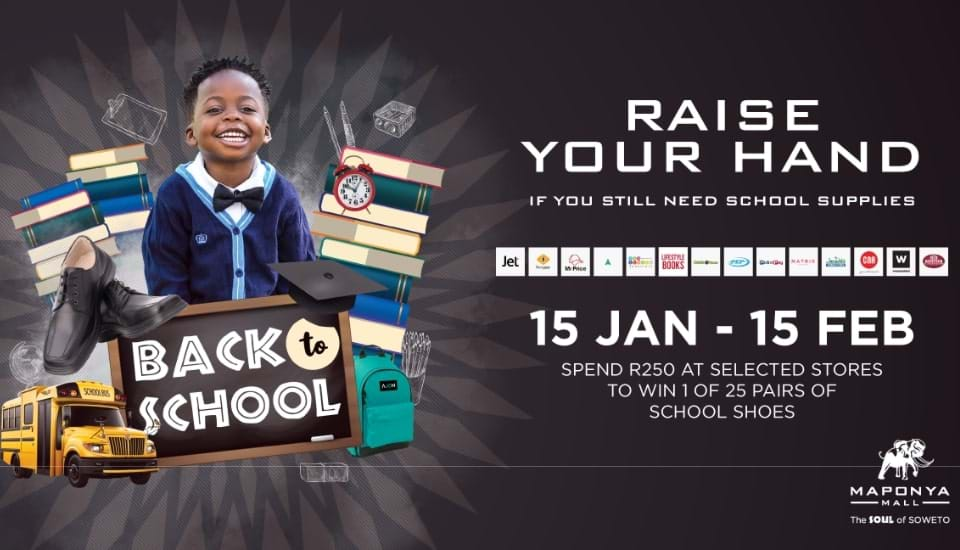 Raise your hands if you still need school supplies! Can you believe it's that time of year again? Get all your Back 2 School needs sorted at Maponya Mall in 2021.
Kick off your Back 2 School shopping spree at Maponya Mall by picking up all the essentials. From examination pads, to hardcover books, BIC ballpoint pens, pocket files and Pritt Glue sticks, we have everything your child needs to succeed in the new year.
Step It Up! We're giving away 25 pairs of school shoes! Who doesn't love a free giveaway? We at Maponya Mall are feeling generous and want to start off the new year on the right foot!
How to enter:
Spend R250 or more at participating stores
Submit your slip into the available entry box
Winners will be drawn on 15 February 2021. Participating stores include:
Education: Boston, Van Schaik Bookstore, Lifestyle Books, CNA
Clothing & Footwear: Pep, Jet, Ackermans, Woolworths, Tekkie Town, Footgear
Technology: Matrix Warehouse, Incredible Connection
Food: Pick n Pay Hyper, Woolworths
eKasi, with something for everyone at Maponya Mall!
Terms & Conditions Apply