Boston City Campus Competition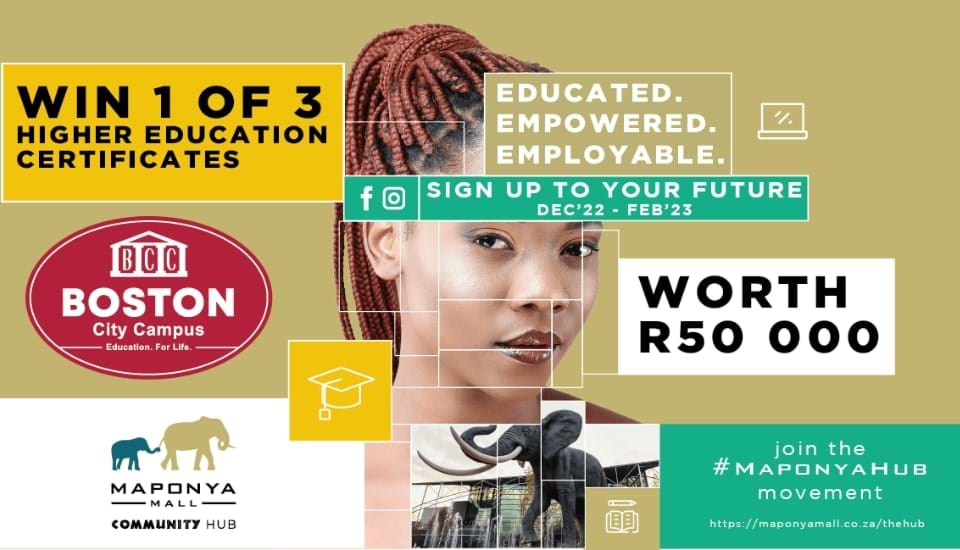 Win your free education! Maponya Mall is offering 3 higher learning certificates worth R50,000 each at Boston City Campus.
Are you a student or young professional that's fresh out of high school or college? Passionate and interested about higher learning and improving your skills to enter the workforce? Then the Maponya Mall Community Hub is the right place for you!
We're here to help make your dreams come true by making you employable, empowered and educated when you sign up for the Maponya Hub movement! To enter for your chance to win 1 of 3 higher learning certificates worth R50,000 each for a course of your choosing, follow these three easy steps:
Visit the Hub tab on our website www.maponyamall.co.za
Fill in your details
Select a course you would like to participate in
Click subscribe
There are three draws taking place on 9 January, 31 January and 28 February for you to kickstart your future in 2023!
Competition Terms & Conditions Apply: bit.ly/3VeknsX
For those of you who don't win, there are many ways for you to still improve your chances at landing that dream job with the Maponya Mall Community Hub! We're calling on you to join the Maponya Hub movement where we will be opening our new state-of-the-art facility to assist all youth, NPOs and SMMEs in the new year!
We have continued opportunities for everyone in Soweto! Job seekers, business dreamers and community members are welcome to sign up NOW for more information. Dare to dream big and take the first step into your future with The Maponya Mall Community Hub!
Maponya Mall in collaboration with Afrika Tikkun brings you a collaborative, safe and inclusive learning environment providing you with the skills to become employable, start up or grow your small business or create and cultivate within the non-profit sector through our development programmes and workshops.
The Maponya Community Hub has been a long-term vision for the Maponya family and we are excited to announce that our educational facility will be officially opening in 2023! We care for our community and will be providing courses to assist in the development and upliftment of our youth, aspiring entrepreneurs and local non-profits!
"Education is the most powerful weapon which you can use to change the world." – Nelson Mandela