FIFA World Cup Trophy Tour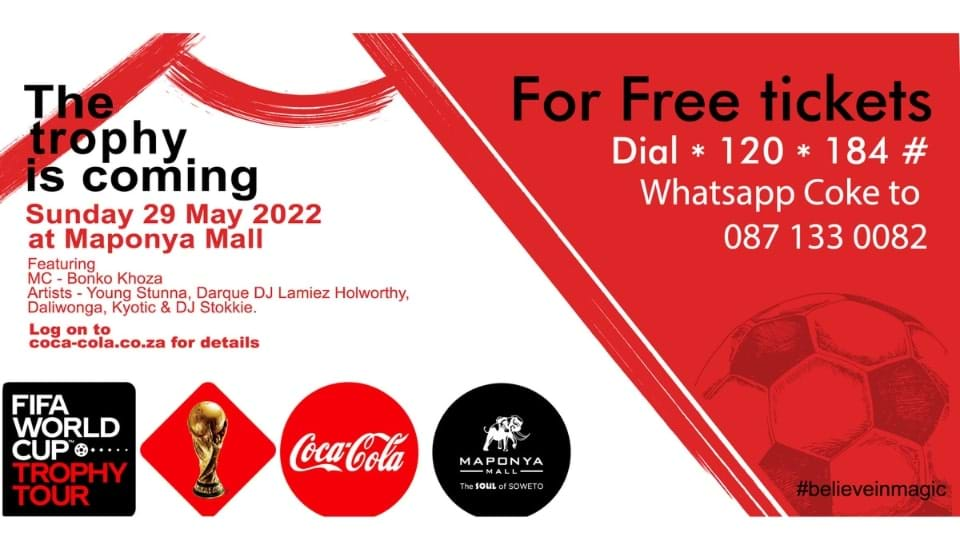 Are you a fan of FIFA?
Don't miss out on your chance to view the trophy in person! Coca-Cola is inviting fans to a once-in-a-lifetime opportunity to see the most recognised symbol in football and experience the real magic of the world's largest and most anticipated single-sport event – the FIFA World Cup™.
Our exciting lineup includes:
MC: Bonko Khoza
Performing Artists: Young Stunna, Darque, DJ Lamiez Holworthy, Daliwonga, Kyotic & DJ Stokkie
The Trophy tour is on Sunday, 29 May, gates open at 9am and the cup only arrives at 11am then departs at 5pm. Only 2,000 people will be allowed in and tickets are only available online (dial *120* USSD Dial *120*184# or WhatsApp 'Coke' to 087 133 0082) tickets are free .
The FIFA World Cup™ Trophy Tour by Coca-Cola will stop in 51 countries and territories, bringing Coca-Cola and FIFA one step closer to the goal of visiting each of FIFA's 211 member associations by 2030. For the first time ever, the tour will visit all 32 countries that qualified for the FIFA World Cup™, inspiring fans across the world through exclusive consumer experiences.
The FIFA World Cup™ Trophy Tour by Coca-Cola has a mission to support the development of sustainability efforts at each location visited by the tour. For the first time, consumer activations will be digitally led by Coca-Cola, reducing waste at each stop on the tour and minimising the consumption of water, energy, materials and other resources.
The Coca-Cola Company has had a long-standing relationship with FIFA since 1976 and has been an official FIFA World Cup™ Sponsor since 1978. Coca-Cola has had stadium advertising at every FIFA World Cup™ since 1950 and is a long-time supporter of football at all levels.
What are you waiting for? Click interested for more information.